Some of you may have read my last post about my plans to pursue showing with Scottie (read it here.) Well this is a follow up post after I have done a bit more research and I'm starting to get into the spirit of the season by starting to buy my show gear!
The three classes I have been really considering are Racehorse to Riding horse, Middleweight Hunter and Riding horse. The racehorse classes are something I really will be doing, but the other two classes will come down to what we do best at. However, a few people have said Scottie would be more suited to Riding horse than Hunter, but we will see how it goes.
Turnout for all three classes are very similar with tweed jackets, brown tack, ideally pellhams, plaited mane, pulled tail and neutral coloured numnah. However, for hunter classes a plain flat nose and browband is needed and for Riding and Racehorse classes need a coloured brow band.
Since the racehorse class needs a coloured browband, I will be getting one of these. If Scottie does well in Hunter classes I will get the tack he needs for that. But only if he needs it. I am having fun choosing a brow band but am yet to find one I really like. However, it's not just choosing one I like, it also has to match my tweed jacket.
To go with my Dublin Olive green with pink tweed, I am thinking a green brow band, possibly with a yellow. Here are some I have found and like:
Everything else I have apart from a pellham. I am not in a rush to get a pellham as I see no point showing in a bit if Scottie is not happy in it. However, I am starting to look at what sort of pellham I might try him in. Since he is currently in a french link eggbutt, I am thinking of something like one of these: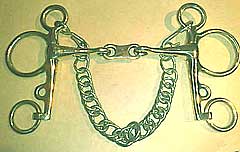 What are your opinions on bits and brow bands?
Last Updated on 14/01/2022